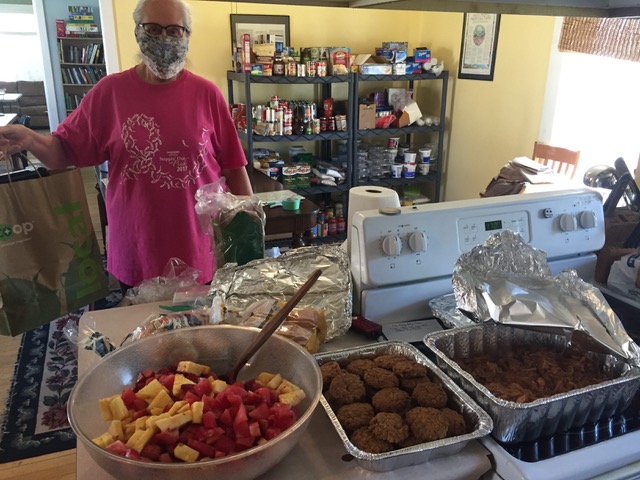 Service as a Way of Being
Service as a way of being is one of the practices of the Zen Garland Order, and for the past eight months, the Dharma River Sanga has been honored to join with the Winona Catholic Workers and other volunteers to serve members of our community who face food insecurity.
A lack of consistent access to enough food for an active, healthy life is a barrier to individual and community wellness, and communities across the country are striving to meet expanding needs stemming from the Covid pandemic's economic impact. In Winona, the Catholic Workers have long operated the Bethany House – a home for those in need of hospitality, food, and compassion.
The Dharma River Sangha became involved in this effort in February, offering members and families the opportunity to take a personal step in fulfilling the Zen Garland Order's principle of "service as a way of being".
Each year our Sangha members make personal and service commitments as part of our spring Ango practice. As I considered my interests in expanding my commitment to service as a way of being, I decided to coordinate efforts to provide a meal once a month to the Bethany House. A few of the Sangha members were already involved at Bethany House – Rev. Eileen Toshin Shojin Hanson (Shojin) has volunteered there for several years and spends considerable time there each week.
Beginning with my Ango service commitment, I have invited all Sangha members to become involved. I have also made a personal commitment to ensuring that a full meal will be available for 30 – 35 people on the third Wednesday of each month beyond the Ango period.
Each month, the Sangha joins to provide a nutritious meal to thirty or more people, contributing a main dish, veggies, and fruit as well as a tasty dessert. In the days before the pandemic, the home offered family-style dinners, conversation, and support to anyone who arrived at the site – no questions asked. This gave me personally a good opportunity to fully engage with presence and compassion as I served meals and then ate with the community members, sharing experiences and memories.
A flexible response to the pandemic's limitations morphed this model into a home delivery service, with volunteers calling regular guests who had provided contact information. Word of mouth then helped to spread the news, and a few brave souls continue to eat on the front porch. As before, anyone who arrives at Bethany House between 3:00 and 6:00, M-F, is able to receive a meal – they are just not able to eat on-premises.
Food insecurity and the lack of reliable shelter resonate deeply with me on a personal level. Throughout my childhood, our family struggled with illnesses and economic crises. After my mother's death, my father struggled with mental illness and was basically homeless for the remaining decades of his life. My sister also spent periods of her adult life without a home and the security of food and shelter.
The Sangha's collective efforts have been creative and enjoyable, drawing on dishes made from scratch – with and without a recipe – and involving kids studying at home. Sometimes over the recent weeks, the number of meals served each day has passed 50 – an unfortunate sign of the times. I think I speak for all Sangha members in saying that this service project, needed more than ever in this time of uncertainty and economic hardship, has been an excellent way to enhance my practice, engaging with presence and compassion in a troubled time.
Offered by Maureen Myosan Jameson, Dharma River Sangha
Sign up for our newsletter
Our newsletters and updates will keep you informed of local and regional classes, workshops, and retreats as well as online study opportunities, blogs, information, and inspiration to continue nurturing, healing, and caring for yourself and the world.
We will not share your information with anyone else.
See you soon!
Ask us questions. Share ideas.
Set up a time to meet with us. Tell us your story.