Genki's Hekiganroku
A two-year weekly posting of Teisho on the 100 cases of the Hekiganroku, The Blue Cliff Record.
The Hekigan-roku or Blue Cliff Record was composed by two of the greatest Zen ancestors, and they never knew one another, living in China 100 years apart. Hseueh-tou (Jp. Setcho, 980-1052), a successor in the Unmon School, gathered 100 brief excerpts from the biographies of Zen master teachers. These "cases" bring us into the lives of these ancestors, showing their interactions with their communities and individual students. Hseueh-tou wrote a verse for each case and left us his succinct, acerbic, most often humorous comments on aspects of each case and on his verses. These are called in Japanese, jakugo or "capping phrases."
Yuan-wu (Jp. Engo, 1063-1135), a successor in the Rinzai School, studied Hsueh-tou's work assiduously and after decades he gave talks to his community on the 100 cases. Afterward, for each case, he composed an introduction and two commentaries, one on the case itself and the other on the verse. He had delivered these talks on Mt. Chia in modern-day Hunan Province at a temple named in Chinese, Blue Cliff. Hence, the combined volume gained its name and great esteem. Dogen Zenji spent his final night in China before returning to Japan copying this text. Dogen Zenji spent his final night in China before returning to Japan copying this text. 400 years later, Hakuuin Zenji wrote a 900-page commentary on the Blue Cliff Record.
After four decades of studying this text and two decades of teaching it to senior students, Genki felt an urge to speak with Hseuh-tou and Yuan-wu himself. Afterward, wash your eyes and ears out well, if you were foolish enough to bend down and listen.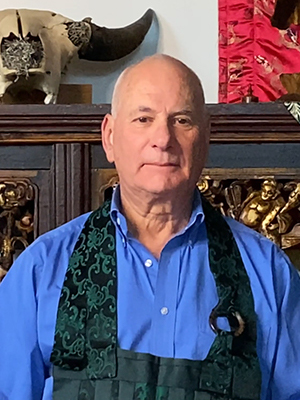 Roshi Paul Genki Kahn
One of the living Zen masters of our time, Roshi Genki augments traditional Zen practices with modern psychology, philosophy, science, and socially engaged service to marginalized and disadvantaged communities. He has developed a thorough and profound holistic approach to Zen practice that offers personal and inter-relational development for skillful living in the world with love, service and joy. Roshi Genki describes this approach to spirituality as The Practice of Presence and Reclaiming the World. Roshi Genki emphasizes that the Zen training hall is our daily life, our way of being in the world with ourselves, our intimate circle, our work and our communities.
Sign up for our newsletter
Our newsletters and updates will keep you informed of local and regional classes, workshops, and retreats as well as online study opportunities, blogs, information, and inspiration to continue nurturing, healing, and caring for yourself and the world.
We will not share your information with anyone else.
See you soon!
Ask us questions. Share ideas.
Set up a time to meet with us. Tell us your story.