A short update on war, the origin of war, and the cessation of war
(or, war is over if you want it)
[Disclaimer: as a non-native English speaker, I'm always concerned about language issues and do my best to write in proper English. Nevertheless, some irregularities may occur.]
A day when for the first time in my life I saw American troops on the street. Just a group of very young men, some of them Black, probably of the same age as some of my students. I was curious what the cities they come from look like. Rural Wisconsin? Fly-over America? Inner city ghettos? George Floyd Memorial's neighborhood? I tried to see it in their eyes. To no avail, they were more interested in shopping windows in front of them. No wonder, a high street here can be as seductive as in any old European city (by "old" I mean medieval – we all still were European back then).
A day when I learned that inviting a Russian colleague to let her exit the misery of war and dictatorship even for a little while would require punitive procedures of highly complex academic bureaucracy and now also additional scrutiny by the national security agency, of unpredictable results.
A day when I learned we may lose our best doctoral students. Some Ukrainians may go straight to the front line. Some Russians need to prolong their visas which will likewise need to undergo a similar scrutiny by the national security agency, of unpredictable results. If they're denied, we will not be informed what the reasons were and there is no appeal procedure in place.
A day when I learned that a mother and a daughter from a village close to Kyiv can't really talk after having spent 40 hours waiting at the border, on top of several days already on the road while fleeing from heavy shelling.
A day when I read a discussion thread on academic listserv, where someone is saying we should be careful with accusations of racism, because we are at war now and any discussion on racist attitudes among those who help would be equal to bowing to the Kremlin's policies. Someone else emphasized "Polish" in the name of the listserv.
Suddenly, finding the space where Daria from Saratov (Russia) and Oleg from Vinnytsia (Ukraine) could meet, is getting so extremely difficult.
So I'm firmly setting such a space for both of them in my Heart/Mind. Just because I said I would (owing to Roshi Paul Kisho Stern for this phrase, slightly repurposed).
A day when I learned what a full-blown mental and emotional breakdown tastes like. And a wobbly but steady recovery, a few days later (supported by my Dharma family – including the Zen Focusing class, the Zen Masters class, the usual qi gong session, a few emails, numerous Zoom, Whatsapp and Messenger exchanges, reading a few short stories by Richard Wagamese, listening to comforting chatter of a brook just below our village house, and to the vigorous voices of a few tits feasting in a birdfeeder).
A day when I got so many touching emails and messages that turned into embers of love and care and then set the whole bonfire. Because "within darkness there is light, but do not see it as light. Light and darkness are a pair, like the foot before and the foot behind in walking."
Trying to sense what setting "the foot before and the foot behind in walking" feels like, I'm convinced that a bonfire set by emails of love and care across the continents and alphabets protects us from war better than those nice, young and handsome American lads in military uniforms. Nothing wrong with hosting them here, though. Hope they liked my hometown. Like Daria from Saratov and Oled from Vinnytsia would, if given a chance.
Making my Heart/Mind spacious enough to hold space for all of it.
To be continued. Sadly.
Rev. Anna Myosen Nacher
Help the Ukrainian Refugees
If you can, please consider supporting this important work. All funds will be used for direct support of Ukraine and Russian refugees seeking safety in Poland.  Thank you!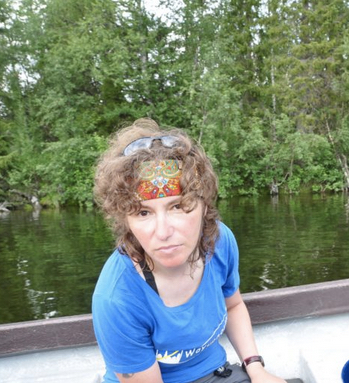 Rev. Anna Myosen Nacher
A novice Zen priestess, Myosen has been practicing with the Zen Garland Order since 2019. She is an Associate professor at the Jagiellonian University in Kraków (Poland) specializing in digital culture, communication studies, and contemporary art. She taught one semester as a visiting professor at Winona State University. That was when her path crossed with the Dharma River and she happily confluences with it ever since. She likes orchids and clouds. The Mississippi will not let her go.
Sign up for our newsletter
Our newsletters and updates will keep you informed of local and regional classes, workshops, and retreats as well as online study opportunities, blogs, information, and inspiration to continue nurturing, healing, and caring for yourself and the world.
We will not share your information with anyone else.
See you soon!
Get in Touch with Us
Ask us questions. Share ideas.
Set up a time to meet with us. Tell us your story.